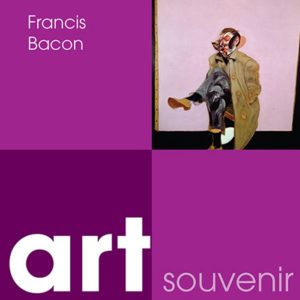 Francis Bacon (1909–1992) was born in Dublin and lived all his adult life in London. His artistic breakthrough came with the 1944 triptych Three Studies for Figures at the Base of a Crucifixion, and it was this work and his heads and figures of the late 1940s through the mid-1950s that sealed his reputation as one of the greatest painters of the 20th century.
This Art Souvenir title on Bacon includes a foreword by Katharina Günther, an independent art historian based in London. After graduating from the University of Cologne Günther has been researching and publishing for the Estate of Francis Bacon, most notably on the Francis Bacon Studio Archive at the Hugh Lane Gallery, Dublin. She is currently working on a PhD thesis on Francis Bacon.
The book is produced in co-operation with the Estate of Francis Bacon in London.
© Art Editions Ltd.
Publisher: Gudrun Publishing
Artworks © The Estate of Francis Bacon / ADAGP, Paris and DACS, London
Photos © The Estate of Francis Bacon
Text © Katharina Günther
Project management: Bjorn Jonasson
Design: Helgi Hilmarsson
Text editor: Shauna Laurel Jones
Product dimensions: 13 x 13 x 1.2 cm
Hardcover: 94 pages
Language: English
ISBN: 978-1904945673
www.gudrunpublishing.com
www.arteditions.media
www.artsouvenir.co.uk