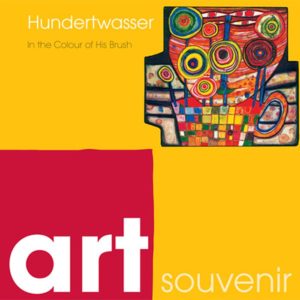 Friedensreich Regentag Dunkelbunt Hundertwasser (1928–2000), born Friedrich Stowasser, became one of the best-known contemporary artists in his native Austria and gained world renown by the end of the 20th century.
Hundertwasser was an incredibly energetic and versatile artist, celebrated for his revolutionary architecture, colourful paintings, original graphic works, tapestries, posters, prints and stamps. He was also noted for his philosophical and theoretical writings: his politics were the politics of aesthetics, beauty and the love of nature.
This book was produced in cooperation with the Hundertwasser Estate in Vienna.
Text by: Andrea Christa Fürst (b. 1964) studied art history in Vienna, Innsbruck and Graz. Since 1992 she has been the custodian of the Hundertwasser Archive in Vienna, where she has systematised and completed the data that has been collected there over the decades. She prepared Hundertwasser's catalogue raisonné for publication in close collaboration with the artist, published in 2000 by TASCHEN, Cologne.
THIS BOOK  IS ALSO AVAILABLE IN GERMAN
© Art Editions Ltd.
Publisher: Gudrun Publishing
Artworks © Namida AG, Glarus, Switzerland
Photos © Hundertwasser Archive, Vienna
Text © Hunderwasser Archive, Vienna / Andrea C. Fürst
Project management: Bjorn Jonasson
Design: Helgi Hilmarsson
Text editor: Shauna Laurel Jones
Product dimensions: 13 x 13 x 1.2 cm
Hardcover: 100 pages
Language: English
ISBN: 978-1904945666
www.gudrunpublishing.com
www.arteditions.media
www.artsouvenir.co.uk