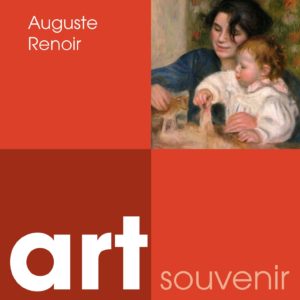 Auguste Renoir (1841–1919) was a leading Impressionist painter renowned for his celebration of beauty, especially his sensual female figures. Renoir's paintings are notable for their vibrant light and saturated colour, most often focusing on people in intimate and candid compositions. The female nude was one of his primary subjects.
In characteristic Impressionist style, Renoir suggested the details of a scene through freely brushed touches of colour, so that his figures softly fuse with one another and their surroundings.
This book is produced in co-operation with the Renoir Museum in Cagnes-sur-Mer.
Text by: Virginie Journiac (b. 1973) studied art history at Paris IV-Sorbonne University. She has published articles on Renoir in exhibition catalogues and art reviews and has also curated exhibitions of works from the artist's late period. She was curator of the Renoir Museum in Cagnes-sur-Mer from 2006 to 2012 and now practices as an expert in works of art.
© Art Editions Ltd.
Publisher: Gudrun Publishing
Text © Virginie Journiac
Project management: Bjorn Jonasson and Virginie Journiac
Design: Helgi Hilmarsson
Editorial assistance: Shauna Laurel Jones
Product dimensions: 13 x 13 x 1.2 cm
Hardcover: 96
Language: English
ISBN: 978-1-912366-22-4
www.gudrunpublishing.com
www.arteditions.media
www.artsouvenir.co.uk