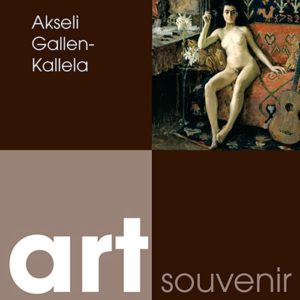 'In the world, life and nature there are only beautiful tales, and when the door opens, step in and fill your soul with them.' Akseli Gallen-Kallela (1894)
Gallen-Kallela is one of Finland's best-loved artists, and his work is highly appreciated throughout Europe and North America. Alongside with Jean Sibelius's music he defines Finnish art at the time of the birth of independent Finland.
This book is produced in co-operation with the Gallen-Kallela Museum in Finland.
The studio castle Tarvaspää, now the Gallen-Kallela Museum, was designed by Akseli Gallen-Kallela and completed in 1913. Expressing the spirit of Jugendstil, the house was primarily intended to be the artist's studio. Today the museum's collections consist of Gallen-Kallela's diverse art, his ethnographic collections, personal belongings and archive.
© Art Editions Ltd.
Publisher: Gudrun Publishing
Photos © The Gallen-Kallela Museum / Finnish National Gallery / Central Art Archives
Text © The Gallen-Kallela Museum
Project management: Bjorn Jonasson
Design: Helgi Hilmarsson
Text editor: Shauna Laurel Jones
Product dimensions: 13 x 13 x 1.2 cm
Hardcover: 88 pages
Language: English
ISBN: 978-1904945635
www.gudrunpublishing.com
www.arteditions.media
www.artsouvenir.co.uk